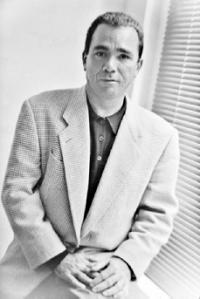 INDIVIDUAL | Inducted 2007 [Posthumous]
Publisher, businessperson, theater producer, and activist Jeffrey E. McCourt (1955–2007) made significant contributions to Chicago and its LGBT communities during the 1980s and 1990s. As founding publisher of Windy City Times newspaper, he helped to build a high-quality independent press. Under his leadership, the paper, which McCourt co-founded in 1985 and ran until 1999, nurtured emerging journalistic talent, winning numerous awards for its news coverage and features.
McCourt's standards raised the bar for LGBT newspaper publishing nationwide and led to national advertising contracts with mainstream corporations. He believed that journalists working for the LGBT press should be paid full-time wages in line with daily newspaper salaries. While maintaining Windy City Times as an independent voice, he embraced advocacy journalism and supported activism aimed at winning mainstream respect and political victories for Chicago's LGBT communities. During the 1986–88 stages of a long campaign to pass a Chicago human rights ordinance that would prohibit sexual-orientation discrimination, the newspaper's offices were known as "Ordinance Central" because of McCourt's generosity in allowing activists to use space and equipment. The paper's editorials galvanized community and political support for the ordinance after initial defeats.
Journalist Albert Williams recalled how, in the wake of the ordinance's earlier failure to pass, McCourt's newspaper called Chicago politicians to account. "We were very influenced by the idea that the community needed to take control of our own issues rather than just depending on our friends," he remembered. "Jeff gave the gay and lesbian community a newspaper that was willing to fight."
McCourt also supervised Windy City Times' investigative reporting into the City of Chicago's funding for AIDS prevention and treatment. After a reporter on the paper revealed that Chicago ranked near the bottom of the top 10 cities in the United States on HIV/AIDS funding, McCourt worked with 46th Ward Alderman Helen Shiller to craft and push through the City Council an ordinance doubling the city's AIDS budget. He was also instrumental in founding the National Gay Newspaper Guild and worked hard to overcome prejudice against the regional gay press within the marketing industry. Besides journalism, McCourt's major passion was for the theater. Prior to Windy City Times, he contributed entertainment coverage to Chicago's GayLife newspaper. He co-produced the 1994 local premiere of Tony Kushner's "Angels in America" at the Royal George Theatre. He later served as president of the board of American Blues Theatre (now the American Theater Company), where he co-produced a 1997 revival of Lillian Hellman's "Toys in the Attic". His philanthropic activities included substantial gifts to Children's Place, a pediatric AIDS treatment center, where he also volunteered.
McCourt was born on December 21, 1955, in Newburgh, New York. Prior to his involvement in the newspaper business, he worked in the financial world as an options trader. He died in Chicago of complications from AIDS on March 26, 2007, having distanced himself from LGBT community involvement after selling Windy City Times to Tracy Baim, one of the paper's original co-founders, in 2000. Most of his final years were spent at an extended care facility on Chicago's Near North Side.